Houses in our neighborhoods are starting to have spooky spiderwebs and skeletons.  Children are getting excited about what they want to be for Halloween.  Summerfield is also getting excited for this fun, family holiday.
Monday, October 7th our residents and their families are invited to Summerfield's annual Halloween Carnival.  There will be a spook alley, games, prizes, trick-or-treating, and a door decorating contest!
Our activity directors, Maren and Maren, and maintenance director, Richard, have been working hard to create a magical spook alley.  The residents love watching their children and grand-children venture past the gravestones, cobwebs, bats, and ghosts.
Our dietary staff directed by our head chef Roger are preparing tasty Halloween-themed refreshments for everyone to enjoy.
Throughout the building there will be fun games and activities made possible with the support of our wonderful volunteers.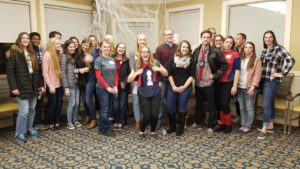 Residents are getting ready to receive the trick-or-treaters by decorating their doors with fun Halloween decorations.  The best decorated doors will win prizes the day of the party.  Families love to admire all the creative decorations as they walk around the building during the party and all month long until Halloween.
The residents are so excited to see all the children dressed up in their cute costumes.  Most of all, our residents are looking forward to spending time with their families at the party.  After all, bringing families together is what traditions like Halloween are all about.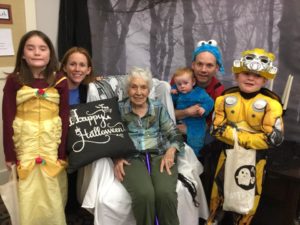 Join us, if you dare, for Summerfield Retirement's Halloween Carnival!
Monday, October 7, 2019
7:00-7:45 Refreshments & Games
7:45-8:00 Trick-or-Treating