With the holiday season quickly upon us, silver bells and shopping sales are already in the air. Here at Summerfield, we love celebrating the holiday season with our residents and their families. A few have asked what we recommend as the best gifts for their seniors in independent and assisted living. Below is a list to ease any shopping stress so you can relax and enjoy the Christmas season of giving made easy.
Deck the Halls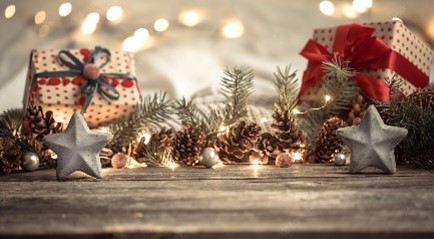 If you're in the area, come and take an afternoon to make their living space merry and bright! This month each resident is encouraged to decorate their doors and halls with Christmas cheer. The winners will be announced at the residents' Christmas party, with prizes for the three best. If you don't want to break the bank but don't want to haul out the storage, the Dollar Store has a wide selection of inexpensive décor available at nearby locations.
Schedule a Watch Party
Whether or not family lives in the area, spending time with your senior means the most to them no matter the location. For those who do not live nearby, there are ways technology has made spending time together both accessible and possible. FaceTime on iPhones or Google Video Chats turn a regular phone call into a video call, with a chance to see the grandkids feasible and fun. Setting up a Watch Party on Amazon Prime or YouTube can let the whole family be present for a movie night. Your senior may need assistance setting up the chats or movie nights on their phones, but the effort will be well worth it.
Baking Memories
Baking one of grandma's favorite recipes can be more than sweet. Flat rate postage boxes mail within the continental Unites States at a fixed rate regardless of weight, so they make the ideal way to send treats to a loved one. If packaged within a Ziploc bag, they can maintain freshness up to a week. So if you'd like to make that family recipe and share it, that is a convenient way to make it happen.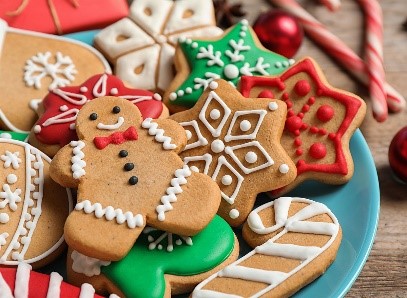 Shopping Made Easy
For those who love to give gifts in the traditional sense, below is a link with practical gifts for elderly use and enjoyment. From alarm clocks to plant racks, to puzzles and pillows, the gifts are perfect for your loved one. Even better, the featured list takes the stress out of guessing from the senior-approved items.
https://dosaygive.com/gift-guide/elderly/page/2/
The holidays are a time to come together with family, and we are grateful we can spend our holidays with your family. We hope you have found our holiday suggestions useful and fun.