Assisted Living Utah
Assisted Living Utah Resident Spotlight: Kathy Bellon
Kathleen Hendrickson was born on May 18, 1940 to LaVerne and Melissa Hendrickson in Los Angeles California. She was the eldest of three children and was raised in Inglewood California. She was blessed to be surrounded by relatives from both sides of her family. Many aunts, uncles and cousins gathered frequently. She inherited her sense of humor from her paternal grandmother, Lulu, whom she was very close to.
Kathy's father was a candy salesman for the Hoffman Candy Company. She remembers watching her mother repackage chocolates into special holiday boxes to be distributed by her dad to different stores in the area. When she gets together now with her cousins they talk about their fond memories of Uncle LaVerne bringing them candy, especially the favorite cup o' gold that they all loved. This was a privilege her and her siblings ironically didn't share. Candy was not brought home to be given to them. Luckily her uncle Howard would stop by on a regular basis with cherry vanilla ice cream to spoil her and her sister and brother with.
Kathy's father 'taught' her to swim by taking her to the ocean. She sank more than she swam, so for her 13th birthday she asked for real swimming lessons. Her dad signed up for the family pass at the Los Angeles Athletic Club downtown. She became an avid swimmer and lifeguard. She was featured in Life Magazine with two-time Australian Olympic gold medalist John Henricks and world record holder, Murray Rose.  John accompanied her to Senior prom in 1958. Kathy also learned the beautiful art of water ballet.
After graduating from Morningside High School, she was the only one of her 22 friends that had saved enough money to take a trip to Hawaii. She attended a semester of summer school at the University of Hawaii. She took a hula dancing class and became a gifted dancer. (Don't ask her to demonstrate, she has a new hip).  She received her Bachelor of Arts Degree in Education at Brigham Young University. While there she met her beloved husband, Philip Bellon and was married in the Los Angeles Temple on July 31, 1965.
She taught elementary school in American Fork until her first child was born. After her husband graduated they moved to Huntington Beach California where two more children were born to their family.
Kathy started a preschool in her home as per request of her friends who she was swapping babysitting with. When the children were at her house she creatively taught them things and her friends wanted their kids to benefit from her talented approach. All the children that attended her school were 3 or 4 years old. They all learned to recite a long poem by heart titled, "Twenty Froggies". Many of her graduates tell her when they see her that they still remember the poem she taught them. Her preschool was successful for many years until she had to shut it down to spend time caring for her aging parents.
Kathy has 3 children, 14 grandchildren and 3 great-grandchildren so far. Phil and Kathy enjoyed 5 years of retirement before his sudden death in 2012. She misses him every day. After living alone for several years Kathy decided in January 2018 to move to one of the best Assisted Living Utah "Summerfield Retirement" to be closer to her daughters. She is grateful for the friends that she has made this year and the sense of community that she feels here.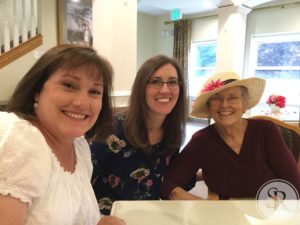 Utah Retirement