Summerfield Retirement
Assisted Living
Shirlee Doreen Robertson Etzel was born in Helper, Utah on May 4, 1924 to James Elmer and Inez Maude Robertson. She married Remo Etzel on October 26, 1941 in Las Vegas, Nevada. They had three daughters Connie, Janis, and Kathryn, six grandchildren, and 14 great- grandchildren.
I have many fond memories. Remo and I would take our grandchildren to Joe's Valley every summer from the time they were three until they were eighteen years old. The kids rode motor bikes, made snail houses, ate camper pies, and played dress up. I made runny yoke fried eggs perfect for dipping biscuits. We took our grandchildren to the tabernacle to see Music and the Spoken Word, and then rode the trolley car around Salt Lake. One summer we took Erika, our granddaughter, to California. We drove our blue and white Ford that had a CB radio in it. Erika talked to truckers all the way there and back. Remo and I were avid golfers. Many hours were spent with our friends on golf courses in Utah, Nevada, and Idaho. Our favorite course was the one at home in Price, Utah. We played every morning at 6AM. KJ, our grandson, often joined us. I have fond memories of those early morning rounds of golf. We were neither the youngest nor the best, but we were members of our local bowling league for over 25 years. Neither of us ever bowled a perfect game, but we sure had fun. We flew to Philadelphia to watch our granddaughter, LaRisse', graduate from periodontal school.
I had a variety of jobs. As a young girl, I picked strawberries and cherries in Utah County. I worked as a meat packer at Cudahy Packing in North Salt Lake. I was an elevator operator at the New House Hotel in Salt Lake for one day. That job made me dizzy. While living in Los Angeles, I worked at a Sears warehouse. Every morning, I would put on my roller skates and carry items to the conveyer belt. While in LA, I also cleaned the inside of airplane gas tanks with a swab attached to a stick. It was my job to remove the lint and debris that collected there. I also maneuvered through the LA traffic as a taxi driver. My working days ended at Safeway where I retired after 25 years. While I was there, I made many lifelong friends.
Oh, the places I've been, and the things I've seen. Mexican bullfights, horse races in California, trips to Alaska, New York, Boston, Branson, the Rose Bowl Parade, Hawaii, Wickenburg Bluegrass festival (annually for 18 years), Italy to visit Remo's family the Battle of the Bulge 60th Anniversary in Belgium and Luxembourg (Remo was in Patton's 3rd Army), the Northwest, pulling our 25 foot trailer, and the Northeast to see the autumn leaves.
My claim to fame and meeting well-known people President Thomas S. Monson was at Little America in Salt Lake at the same time Remo and I were. Pres. Monson told me that he liked my tangerine colored blouse. He then wished us well and was on his way. I went to high school with football legend Rex Berry who played for the San Francisco 49ers. He was a handsome young man and a good friend. In 1960, I was awarded 'Employee of the Month" at our local Safeway store. My granddaughter, Vallarie, and I met Neal A. Maxwell at a stake conference. We enjoyed his talk, so we both wrote him a letter. We were delighted when we both received a reply from him.
Songs I remember or taught to my grandchildren "Pistol Packin' Mama," "Ten Pretty Girls" (because I had red hair), "Mairzy Doats," "East Bound Train," "Can't Smile Without You," and our song "Because of You."
Some favorite movies and TV shows White Christmas, Singin' in the Rain, Harper Valley PTA, Stalag 17, The Parent Trap with Lindsay Lohan, Shark Tank, Dancing With the Stars, and Gomer Pyle. I watched Murder She Wrote and Knight Rider on Sunday nights with Vallarie, my granddaughter. Every Saturday night, Remo and I would religiously watch The Lawrence Welk show. When the music moved us, we would dance to those great songs.
Movie stars of my day Jeanette McDonald, Nelson Eddy, Gene Kelly, Dick Powell, June Allyson, Judy Garland, Doris Day, and William Holden. I guess I liked them all.
Music I listened to The McGuire Sisters, the Lennon Sisters, Eddy Arnold, Dean Martin, Tony Bennett and the Glenn Miller band. I enjoyed all of the 40's music.
Favorite holiday Christmas in Castle Gate, Utah. We would travel from house to house Christmas Day to visit with our family members and friends.
My fashions My mother bought me a dress from the Alden's catalog. I called it "The Big Apple Dress." It had a flared, white skirt with big red apples on it. I remember that dress to this day. I wasn't a fashion nut, but I did stay current with the styles of the day. I had a matching hat, gloves, handbag, and shoes. I wore tube tops, short shorts, and pedal pushers. I discovered henna and kept my hair red with Egyptian Henna Powder until Connie was no longer able to find it at Skaggs. I love to just sit and listen for hours. Those songs often make my day. R
Favorite foods liver and onions, good ole' Italian spaghetti, strawberry and butter-pecan ice cream, peanut butter and honey on a spoon, split pea soup, and See's Bon Bons and California Crunch. Remo's favorite was always their peanut clusters.
My radio Oh my radio! That has been the first thing turned on every morning and the last thing turned off at night for, well, I don't remember how long. I listen to country, blue grass and the 40's. I love to just sit and listen for hours. Those songs often make my day.
Words I live by: Put your family first, then your job, and everything will work out. Watch your pennies, and your dollars will take care of themselves. Different strokes for different folks. Fairy tales can come true, it can happen to you, so be careful what you say. When a job must be done, never leave it till it's done. If that task be great or small, do it well or not at all. Life is short. Stop and smell the roses. Jump in bed and snuggle tight, remember don't let the bedbugs bite.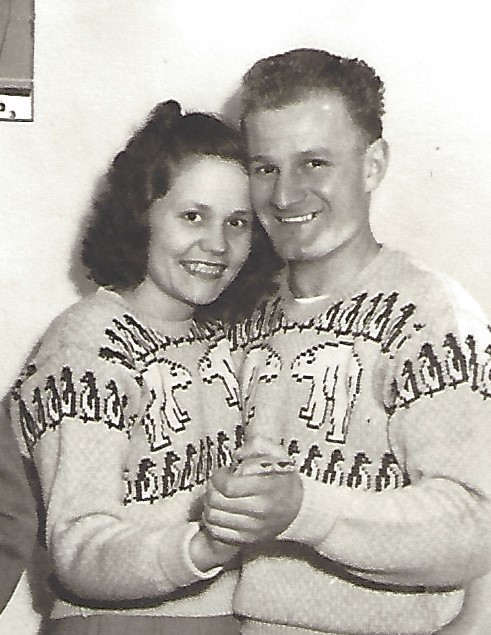 All that I saw and all that I did was with Remo by my side for nearly 76 years. We did everything we could–together. After all these I  moved to a great Utah retirement community "Summerfield"  where I enjoyed the company of kind staff, activities, and many new friends. I would like to thank everyone here at Summerfield Utah retirement for truly going out of your way to make my stay here enjoyable.
A special thank you to those who helped get me ready for my trip to the temple to be sealed to my late husband, Remo. I will never be able to repay you for your kindness and love you have shown me.
Lovingly, Shirlee with two e's