Some of the fondest memories come from sitting around the dinner table with family or friends and enjoying a nice meal. There's just something about food that brings people of every walk of life together. Here at Summerfield, that feeling is no different.
Our residents come to enjoy and build friendships as they have meals together in our dining room. We schedule meals three times a day and each week we pass out a menu with different options to choose from for our resident's convenience.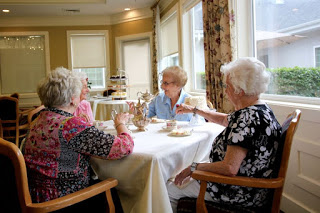 During breakfast on our assisted living side, we serve six different kinds of cold cereal and a variety of juices, hot chocolate, milk, coffee, and tea. Once everyone is seated, each person also has an option of eating a hot meal which can be anything from pancakes, scrambled eggs, French toast, an omelet, etc. Lunch time is unique because each resident has the option between two main course meals with a starch and a side of vegetables or fruit. Dinner time consists of a five course meal. Each resident has the option of a different kind of salad, soup, sandwich, side, and dessert every day. We understand that independence is key for our residents, and here in our community each day is a day full of choices.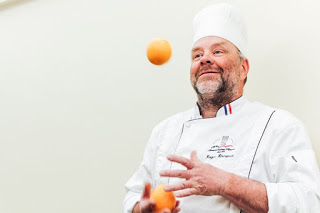 In order for Summerfield to provide our residents with various meal options, 98% of our food from scratch, and quality home-style cooking we have a chef on site who manages our kitchen staff. Our chef, Roger, graduated from culinary school at Utah Valley University in 2004 and has worked with us for 9 years. He has enjoyed cooking since his youth. Those he grew up with told him he should be a chef and the idea stuck with him after all these years. Roger enjoys bringing joy to others through culinary perfection. He favors French cuisine and German Chocolate Cake for dessert. His long term goal is to become a certified executive chef within the next year. Come by for a tour and ask for a taste of perfection from our kitchen.
Utah Retirement