March Resident
Summerfield Retirement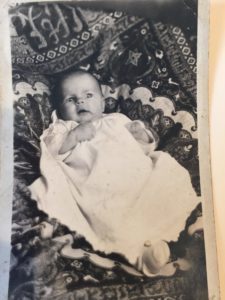 Dorothy Virginia Riley was born on February 16, 1934 in Cody, WY, to Alfred Leslie Allen and Della Berniece O'Mara. She is the oldest of 6 children. She has 3 sisters, Betty, Sunny and Beverly, and two brothers, Leslie and Lee. She also has 2 half-brothers, Brad and Troy.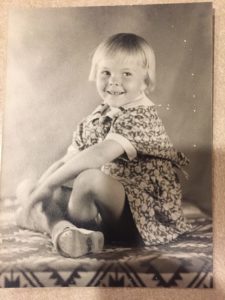 She grew up on a farm 3 1/2 miles from town in Burlington, WY. She walked to Primary, either from home or school, depending on the time of year. One time when she was walking to Primary with her siblings, they saw a big snake stretched across the road. Instead of going around it, they went back to get a run at it, and jumped over it! She said they never looked back to see if it was still there! She remembers washing clothes in a hand washer, where as a young girl, she had to stand there and move a handle back and forth to agitate the clothes.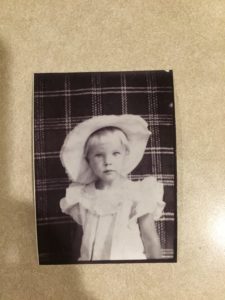 She attended elementary school and her first 3 years of high school in Burlington, WY. She received the American Legion award at her 8th grade graduation, which was given for the character traits of courage, honor, leadership, patriotism, scholarship and service. She married Kenneth Jones on May 25, 1951, in the Idaho Falls LDS Temple, the year before she graduated. She attended Greybull High School her Senior year, and graduated in May, 1952.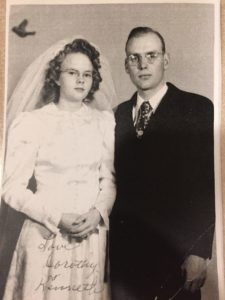 They had 7 children, Kevin, Kengie, Marlin, Kalyn, Lennis, Shelley and Jeffrey. Two of her sons have passed away: Kevin in 2010 at age 54, and Jeffrey at birth. Kevin and Susie have 4 children. Susie lives in Logandale, NV. Gary and Kengie have 11 children and live in Cedar Hills, UT. Marlin and his second wife, Sandy, live in Burlington, WY. Marlin has 3 daughters with his first wife, Bette Rae. Kalyn and Barb have 4 children and live in West Jordan, UT. Lennis and Patty have 5 children and live in Pleasant Grove, UT. Shelley and her first husband, Brad, have 5 children. Shelley and her husband, Todd live in Billings, MT. Dorothy has 32 grandchildren, and many great grandchildren.
They raised their family in Otto, WY, a little town with a population of 50. They never lived close to a store, so she has always been very resourceful, and could make a dollar stretch a long way. She drove a school bus for 13 ½ years.
She and Kenneth went to Korea, where Ken designed the heating and cooling systems in the Seoul, Korea LDS Temple. Dorothy was the assistant to the temple matron for a year, once the temple was completed. They went to Hawaii on the way, and during their time in Korea, they visited Hong Kong and Japan. When the children were still at home, she flew to Alaska to visit her sister. She also went to North Dakota for her brother's wedding. Most of her vacations were to visit her children in other states, or to the mountains she loves so much!
Dorothy did a lot of sewing and made a lot of her childrens' clothing, including wedding dresses. She also made many quilts. When she was about 14 years old, she made a beautiful blue taffeta dress. The first time she wore it, she sat in the back seat of a car, which ran into a ditch, and somehow got battery acid on it that ate little holes in it!
She loved gardening and nature. Her flower beds were beautiful, and a source of joy to her. She still loves nature! She loves to make things grow, and enjoys having a variety of houseplants.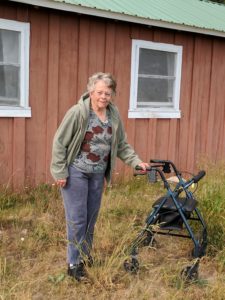 Ken's family had some property in the mountains, and they would go up there in the summer. When Kevin and Kengie were little, the family stayed there in a tent all summer. She cooked in a sheep camp for 5 men, besides taking care of her little ones, and washing clothes by hand.  Later they built a cabin on the property, and she loved to go and stay in it. She still does! She went up there with Shelley last summer and really enjoyed it!
She has always been a hard worker, and rarely sat down! Sometimes we wished she would take a break so we could! She did a lot of canning, and won lots of ribbons at the county fair for her fresh and canned fruits and vegetables.
She was a great cook, and made delicious meals. She knew just how to season foods to make them taste yummy! I have never tasted fried chicken as good as hers!  She did a lot of baking, including breads, rolls, cakes, cookies, and muffins. Her cinnamon rolls were the best!  She also made and decorated beautiful wedding cakes for family and friends. She always got up early and made us a home cooked breakfast before early morning Seminary. She made all kinds of candies and treats for her family and neighbors to enjoy.
She made things with paper mache, and did embroidery, knitting, and needlepoint. She made beautiful crocheted items, including afghans. She also reupholstered furniture. I don't think there's really anything she couldn't do!
Kenneth passed away on January 9, 1998 at age 70. They were married for 46 years.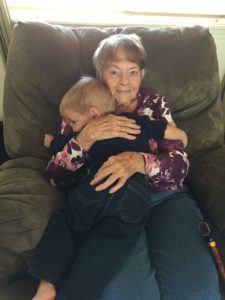 She married Melvin Reid on February 20, 1999. They did a lot of camping and traveling to visit friends and relatives. They were camp hosts in the Big Horn Mountains for 3 summers. Mel passed away 7 years later.
She married Marion Riley on February 14, 2009. They were together for 3 years before he passed away in 2012.
She has 12 step children from her last 2 marriages, besides Ricky, who isn't related, but calls her his other mother. She has 32 grandchildren and many great grandchildren.
She and her family are very grateful for Summerfield, and the special care they give her. She always talks about those who work there, and how nice they are to her. We all appreciate it so much!